When Ollis & Co. and Akers & Arney joined forces to create the largest independent insurance agency in the region, we were excited to take on the challenge of taking the equity from both brands and creating a new identity that would speak to the history of both companies. Ollis & Co. and Akers & Arney are better together, so we built their new brand and an entire campaign showing just that.
Our Art Director, Amanda, speaks to the development and strategy behind the brand:
Both agencies' logos utilized a circular shape around the name and we wanted to keep some form of that shape when moving into the rebrand to transition any equity that may have had. That's why their new logo was created using the combination of the letters "o" and "a" that came together to mimic the circular shape they already had.
This new shape that we created also mimics a pen quill, which lends itself to the nature of the insurance industry. The golden color was chosen to pay homage to the golden standard in both of the original logos with the addition of a rich blue, signifying stability, trust and expertise.
The angle in their logo was then used as a design element across all collateral, along with a pattern that was also developed using the shape of the logo.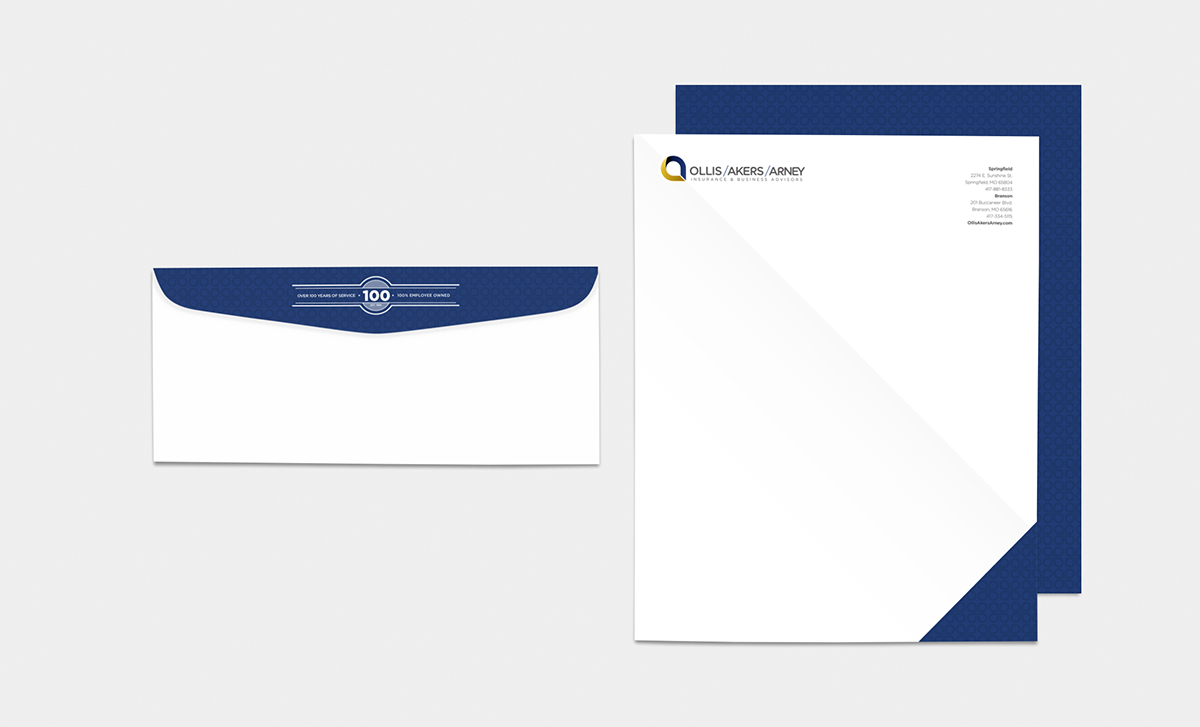 We worked closely with Carly Pierson, former Ollis/Akers/Arney Marketing Coordinator, to execute a brand that was the right fit for OAA and communicated it's value. This is what she had to say about their experience working with Revel:
"We looked to Revel to expertly combine two well-known, legacy brands, transforming them into something contemporary with a nod to the history of our companies. The end result was exactly what we wanted. Their insights created a well thought out, visually appealing brand. We consistently hear positive comments from clients and the community about the new look. Besides the logo, Revel created cohesive branding that extends to our ads, print materials and website. The transition was fluid and easy. This new branding effortlessly communicates the values and energy behind Ollis/Akers/Arney. We couldn't be more pleased."
The end result? A brand Ollis/Akers/Arney could be proud of and that spoke to who they are as a new team…better together.

Are you interested in transforming your brand?
Let us help you out. We'd love to chat. Contact us at
417.368.6966 or howdy@reveladvertising.com